Hey there! // Hallo Leute!
The weather is finally getting better from day to day (at least a bit) - spring is fortunately near, what seems to me as the perfect opportunity to have a look at the following season's trends for men. I for one am really looking forward to the warmer days (especially to that day, on which I can finally throw the winter jackets into the wardrobe) and of course, to embrace the new trends. Basically, lots of spring and summer trends still remain and are on trend as the years before. There are some new, fresh trends though, as seen on the fashion weeks of the world. In this post, I want to give an overview about the hottest trends and how to welcome spring and summer with them. As always, enjoy the article! :) //
Das Wetter wird von Tag zu Tag besser - der Frühling ist nun also endlich in Sicht, was mir als die perfekte Gelegenheit erscheint um mal einen Blick auf die Trends der kommenden Saison zu werfen. Ich für meinen Teil freue mich schon riesig auf die wärmeren Tage (vor allem auf den Tag, an dem ich die Winterjacke endgültig in den Schrank schmeißen kann) und natürlich, damit einhergehend, darauf, die neuen Trends umsetzen zu können. Grundsätzlich kann man sagen, dass viele Trends aus den vorherigen Jahren auch dieses Jahr noch aktuell bleiben werden, es gibt aber auch einige neue, frische, wie ja auf den großen Laufstegen der Welt zu sehen war. In diesem Post möchte ich euch also einen kleinen Überblick über die angesagtesten Trends verschaffen und wie man den Frühling und Sommer mit ihnen Willkommen heißt. Wie immer viel Spaß beim lesen! :)
1. Prints // Muster:
Furthermore on trend, prints in every single conceivable variation. Hot for the coming season: Stripes, geometric and comic prints! Stripes are omnipresent anyway, this is why I want to highlight the currently trending geometric prints, which are essential to every wardrobe this season. Dots, plaid, checks,..there's no limit! Also new is the hype about our much-loved comic heroes like Mickey Mouse and Superman. They are now celebrated with printed t-shirts and sweaters. Also stylish: Sweatshirts printed with the "Pow" or "Boom" icons, which are popular from comic books. //
Auch weiterhin aktuell, Muster in allen denkbaren Variationen. Für die kommende Saison gilt: Streifen und Comicmuster sind der Renner! Abgesehen von den sowieso schon allgegenwärtigen Streifen sind die geometrischen Muster einer der größten Sommertrends 2013, egal ob Punkte, Karo's, Rauten, hauptsache geometrisch! An sich gibt es hierbei kein Limit. Zudem neu ist der Trend um die Muster unserer allseits geliebten Comichelden wie zum Beispiel Micky Maus und Superman. Diese werden nun ausgiebig mit Hilfe von bedruckten T-Shirts und Pullovern zelebriert. Außerdem sehr modisch: Die "Boom", "Pow" Zeichen, allseits aus Comicbüchern bekannt, als Drucke auf Pullovern.
Topman: 30€
Topman - 40€
2. "Candy-Colors" // Pastelltöne:
"Pastel colors are summer and spring colors" - this statement is of course still true this year. As seen at Gucci, pastel tones are no longer reserved for ladies only - also men are allowed to dress with soft "candy colors". A chic shirt in mint green for instance appears refreshing and confidently stylish. This trend is definitely one of my favorite one's! //
Pastellfarben sind Sommer -und Frühlingsfarben - das gilt natürlich dieses Jahr immer noch. Wie man zum Beispiel bei Gucci gesehen hat, sind Pastellfarben nun nicht mehr nur für die Damenwelt reserviert - auch Männer dürfen sich in sanften Rot,Gelb -und Grüntönen kleiden. Es muss ja nicht gleich das ganze Outfit sein, aber ein schickes Hemd in minzgrün z.B. wirkt in der Zusammenstellung erfrischend und stilsicher. Definitiv einer meiner Lieblingstrends!
Gucci S/S '13
Selected Homme - 45 €
3. Metallic & Shine // Metall und Glanz:
This trend divides the minds, but is definitely worth setting a spot on. It has been seen on several runaways of the world and the designers showed us how to work with this trend. You will definitely attract attention wearing metallic, kind of futurstic sneakers or a shiny jumper for instance, but if you know how to combine these eye-catching items right, you'll certainly have a 'brilliant' outfit. (haha) The only thing you have to keep in mind is that less is always more. Keep your outfit simple. //
Dieser Trend spaltet die Gemüter, war aber auf etlichen Laufstegen der Fashion Weeks zu sehen. Wenn ihr diesen Trend in euren Alltagslook einarbeitet, werdet ihr auf jeden Fall auffallen - von metallisch glänzenden, futuristisch detaillierten Schuhen bis hin zu glitzernden Pullovern ist eigentlich alles dabei, der Trend ist also sehr vielseitig. Auf jeden Fall sehr interessant und wenn man weiß mit diesem Trend umzugehen kann das sicherlich richtig cool aussehen! Ihr müsst lediglich beachten, dass weniger immer mehr ist - haltet eure Zusammenstellung also schlicht, wenn ihr nicht zu schrullig aussehen wollt.
Topman - 20€
4. Neon colors // Neonfarben:
The 90's are back! Neon colors are so on trend this season, so fill your wardrobe with stylish neon t-shirts or even shorts and express your knowledge of fashion trends wearing them. Same advice here, less is more - if you're wearing a neon shorts, simply use a white shirt to complement it perfectly. Sneakers with neon accents or neon accesories are an insider's tip, because they're the best way to embrace this trend with ease. //
Die Neunziger sind zurück! Neonfarben sind unglaublich im Trend diese Saison. Bringt also ein bisschen Leben in euren Kleiderschrank, indem ihr ihn mit neonfarbenen T-Shirts und vielleicht sogar Shorts füllt. Damit fallt ihr im Sommer hundertprozentig positiv auf und zeigt euer Trendbewusstsein. Hierbei gilt wieder, dass weniger = mehr ist, am Besten setzt man den Trend mit neonfarbenen Sportschuhen oder Neon-Accesoires (Geheimtipp!) um. Damit kommt ihr echt cool durch den Sommer!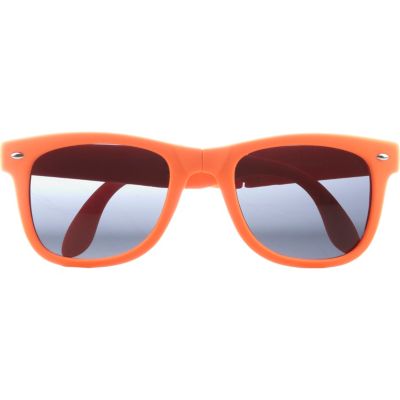 River Island - 13€
Final word // Schlusswort:
I hope that I could give you an adequate overview about the most important trends of spring and summer. I myself am still not exactly sure, which trends I want to adopt to my personal style. Sometimes, you feel a bit lost, no wonder, regarding the huge amount of trends...Simply think of being true to your style and yourself, it's all about feeling good in your skin and the clothes you wear! :) //
Ich hoffe euch einen angemessenen Überblick über die wichtigsten Trends des Frühlings und Sommers gegeben haben zu können. Ich bin mir selbst noch nicht so ganz sicher, welche Trends ich auch schlussendlich umsetzen werde, meine Favoriten sind aber eindeutig der Pastell -sowie Comictrend. Man mag sich vielleicht manchmal ziemlich verloren fühlen, kein Wunder, bei den vielen Trends...Denkt einfach immer daran, eurem eigenen Stil treu zu bleiben und hauptsächlich die Trends, die auch wirlich zu euch passen, in eure Outfits mit einfließen zu lassen - ihr müsst euch nämlich nur wohlfühlen! :)
--- Stay inspired! // Bleibt inspiriert! ---